I was born 150 years too late to fully realize my passion. I must say that I am infatuated with the 1800s, particularly the West and the allures that drew so many people to drastic measures of unforeseen survival challenges and hopes for riches to find their version of true freedom.
I grew up in Southern Utah, 20 miles from Kanab, Utah on a ranch surrounded by Anasazi ruins and flush with artifacts. My parents,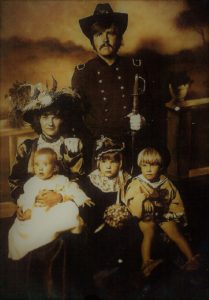 sister, brother, and I were weekend archaeologists in our own front yard.
Unfound Spanish bullion and cowboy era treasure interests were influenced by our parents. This became my religion, stemmed from a perfect childhood of searching out and trying my best to understand the intriguing stories of the past. My lifetime of digging in the red dirt of Utah, Arizona and the rich dirt of Nevada has now evolved from under my fingernails to translating the stories for the world to enjoy what intrigues this old soul of mine. (Yup, that's me in the bottom right of this photo.)

My debut novel, Clevenger Gold, The True Story of Murder and Unfound Treasure, is the result of 10 years of compiled research. The handed down stories, articles, and findings made this journey an exciting one. This novel is the dissection of actual, first person accounts of the events and is an exceptional example of the amazing way stories can (and usually do) change in such a short time.  Stories such as this continue to bend and warp until someone places pen to paper with the backing of sound research. This was my attempt to clear the air for what did, and did not happen.